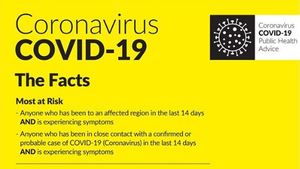 COVID-19 Further Information
A novel (new) coronavirus that has not previously been seen in humans was identified in December 2019. The virus is called Severe Acute Respiratory Syndrome Coronavirus 2 (SARS-CoV-2) and the disease that it causes is called Coronavirus Disease 2019 (COVID-19).
New information is becoming available every day as doctors and scientists study the virus and how it affects people. The situation is evolving.
The Department of Health is leading the government response in Ireland to COVID-19 and are providing up to date information and advice on it's website at https://www.gov.ie/en/organisation/department-of-health
Additional resources for information and advice include:
Health Protection Surveillance Centre (HPSC) at www.hpsc.ie
The HPSC provide advice for the general public and for specific groups and settings including employers, healthcare professionals, education settings and religious settings.
Health Service Executive at www.hse.ie
Department of Foreign Affairs and Trade provide travel advice at https://www.dfa.ie/
World Health Organisation at https://www.who.int/
Centre for Disease Control at https://www.cdc.gov/
Employers are advised to keep up to date with information on COVID-19 by using the websites referred to above. Information on employer duties with regard to biological agents at work is available here on the HSA website.
Other useful information:
See Business Continuity Planning: Checklist of preparatory actions in responding to COVID-19, Department of Business, Enterprise and Innovation https://dbei.gov.ie/en/
Coronavirus COVID-19 - The Facts Poster